Nov-Dec Restaurant Roundup
A go-to vegan spot in Chelsea, Willy Wonka & the Chocolate Factory, and impressive service
Willow is my newest go-to restaurant in Chelsea. (The other two are Maison Kintaro, which I've written about before, and the 24/7 Coppelia.) The criteria are:
There's excellent food—duh—on a menu that can accommodate less adventurous or diet-restricted eaters without boring everyone else.

It's easy to get a table on short notice.

The food is affordable but not too affordable for a professional lunch.

The ambience is appropriate for a long conversation—about your friend's breakup, the job you're about to quit, "An Interview With the Man Who Keeps Uploading My Feet to WikiFeet," whatever. (Coppelia is borderline here for groups larger than four because of the volume.)
Willow is vegan. Most of their menu is devoted to upscale adaptations of "relatable American bistro food," as their website puts it. And I would take their "calamari," Zalmon tartare, and lasagna over most renditions made with the benefit of real squid, fish, and cheese. Thanks to friend RH for the tip.
Subscribe for free to make sure you don't miss any new posts!
---
Remember the lickable wallpaper in Willy Wonka & the Chocolate Factory? If it were a bar, it'd be the back room of Double Chicken Please. The "Cold Pizza" tastes like cold pizza. The "Key Lime Pie" tastes like Key lime pie! The downside is that there's a two-hour wait for a seat.
---
I lost count of how often our server at Semma, who was so jacked that the sleeves of his "Unapologetic Indian" t-shirt looked they were about to burst, said "authentic" or "very authentic" while reviewing the menu for us. At least six?
Most of the hits were appetizers: the Mangalore huukosu (cauliflower), gunpowder dosa, attu kari sukka (lamb), kudal varuval (goat intestines). The oxtail and lobster tail also stood out, but the mains came out at such a rapid clip that most of the rest just blurred together.
The pre-order-requested dungeness crab wasn't worth the effort it took to eat, with its ugly-chic plastic bibs, nutcrackers, and scraping implements. I don't think it belongs on the menu.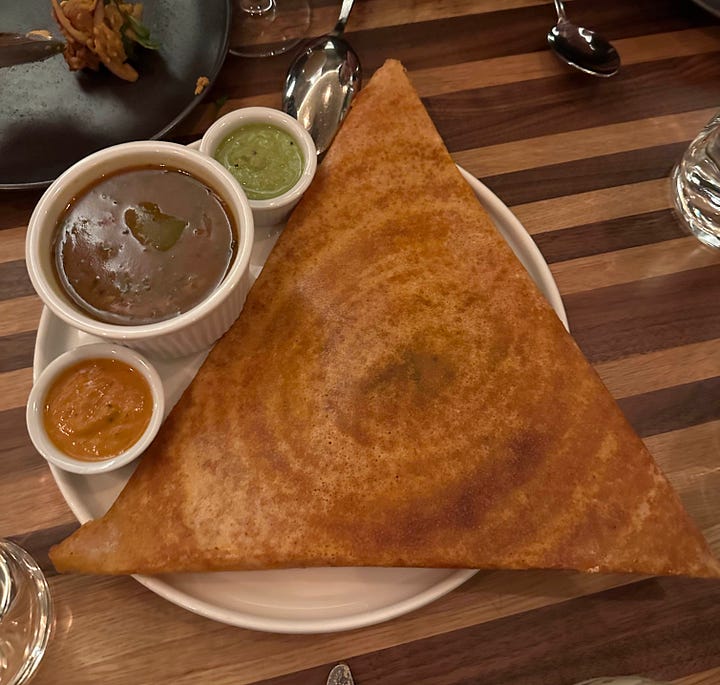 ---
Chef Tatsu, of the former Omakase Room by Tatsu in the West Village, has moved to Dallas. It sounds like his Tatsu Dallas has set a new bar for above-and-beyond, thoughtful service: "My Deaf Sister and Her Husband Dined at Tatsu Dallas. The Chef and Team Learned ASL For Their Reservation." (h/t my cousin MM.)
In brief
Estela: solid all around, a date spot, order the scallops with date and uni

Brooklyn Hots: we hardly knew ye, and I'm sad to see you go. Per Eater: "'This is one of those sad moments where I wish I was a rich kid,' said Heiss. 'But unfortunately I'm not, and I am just losing money.'"

It was surprising how affordable their food was. They could've charged 30% more and been on par with casual burger joints in the area.

Left: I was surprised by the hamburger/macaroni salad pairing on the trash plate at Brooklyn Hots, but the savory/sour worked. Right: pizza logs (i.e., pizza spring rolls).