Chez Mannes
yes, I reviewed dinner at my grandmother's house
Before a recent family gathering, my uncle asked the members of the extended Mannes clan to contribute one 8.5x11 page of content. The requirements were slim: include a picture somewhere, and "[u]se your creativity."
It's been a while since I last posted, and I'm still working on the list of favorite restaurants that I promised in "2022 in Review, Part 1," so here's what I wrote. I made very light changes from the original, such as removing my grandmother's home address.
---
Even the fanciest restaurants can send diners into battle with the wrong equipment. To serve marrow bones, Minetta Tavern arms you with a fork and steak knife for a spoonfight. Nearly everything at Kochi comes on a wooden skewer, but what good does that do during the soup course? And then there's the bizarre assortment of weapons at Blue Hill at Stone Barns: a scythe for the Brussels sprouts, a pair of shears for the beans, a red Sharpie for the eggs, a flimsy miniature trowel that you're never sure when to use.
But at Chez Mannes? Nah. Here, many pieces of tableware are made with single, perhaps oddly specific, purposes in mind. Take the plates that are made just for artichokes, with one basin for the dip (olive oil?), another for used leaves, and a third in the center to keep the artichoke upright. The bone marrow course comes with a double-ended scoop of sterling silver that you can wield like a meat-eating Darth Maul.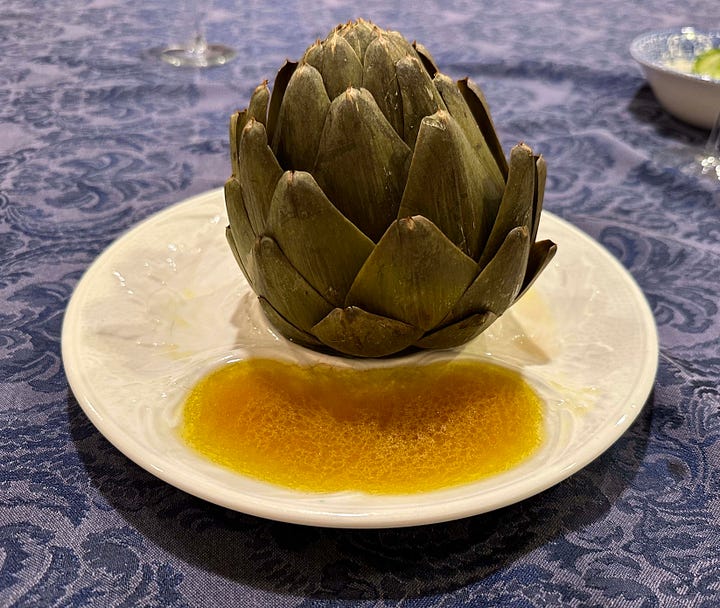 These place settings are unusual, at least in 2022, but they're strangely welcoming. The artichoke belongs on the artichoke plate. The marrow scoop belongs with the bone marrow. You belong at Grandma's house.
Chez Mannes. Address [redacted] Noise level Quiet. Alcohol IPAs and Kirkland Signature Prosecco. Reservations Strongly suggested, but not, strictly speaking, required.
1
There was also a deadline. I'm sorry to say that I flouted it rather egregiously, especially considering that I wasn't working at a job at the time.